Moving Dreams
J.B. and Sons understands that behind every successful business is the need to transport goods, moving both machines and materials along the supply chain. Transportation services must also adapt to the nature and type of goods delivered, from heavy equipment to its smallest spare parts.
J.B. and Sons responds to these challenges with a band of trucks that boast of top conditioning and a well-trained crew capable of operating machines and handling cargo. Our trucks are especially modified to cater to delivery of heavy equipment. Choose from among our fleet composed of Tractor Heads, Low Bed and High Bed Trailers, and 6-wheel and 10-wheel Boom Trucks.
As the brainchild of Mr. Gino Banson, who hails from a line of businessmen and equipment specialists, the company guarantees efficient, reliable, and secure services.
J.B. and Sons: Moving Dreams.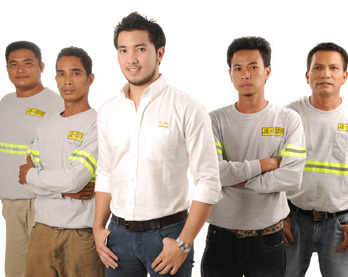 Our Vision
To be the preferred and most outstanding solutions provider, able to deliver the highest quality, cost-effective, and comprehensive services for all equipment-related needs to customers across the Philippines.
Our Mission
Hauling Service Mission Statement: To forge partnerships and provide the finest quality service over our competitors, by focusing on safety, heavy equipment knowledge and operation, total driver efficiency, professionalism, etiquette, and tangible economic benefits to our customers.
Economic Mission Statement: To operate the company on a sustainable financial basis of profitable growth, increasing value for our stakeholders, all the while providing livelihood, development, and opportunities for our employees.